************** MCMH-EU Final Meeting Frankfurt 26-30 April 2023 **************************** 4GP Budget was approved **************The new version of the Annotated Rules for COST Actions (COST 094/21; V1.3) enter into force on 1st November 2022.*************
European Middle

Class

Mass Housing
MCMH has been generally underestimated in urban and architectural studies and there is still a lack of comparative analysis and global perspectives. By crossing different approaches focus on Architecture, Urbanism, Planning, Public Policies, History, Sociology, our network allows a wider understanding of MCMH sprawl, deepening on-going researches and focussing on the existing case studies.
MCMH-EU Final Meeting Frankfurt 26-30 April 2023
European Middle Class Mass Housing
MCMH has been generally underestimated in urban and architectural studies and there is still a lack of comparative analysis and global perspectives. By crossing different approaches focus on Architecture, Urbanism, Planning, Public Policies, History, Sociology, our network allows a wider understanding of MCMH sprawl, deepening on-going researches and focussing on the existing case studies.
OPEN CALL FRANKFURT MEETING - The deadline for applications is 31st of March.
Open Call Frankfurt Meeting

In the framework of our Frankfurt meeting, we are pleased to share with you a call for participation to enable 20 members of our COST Action to take part in this last major event of the CA18137 MCMH-EU.
The call is open to all members who wish to present and share:
1. The work developed in the WG throughout the Action
2. Networking tools developed (STSM or other Grants)
3. Papers to disseminate the Action at the MCMH docomomo seminar.
To apply, please send an email to the GHM of our action Carolina Camacho stating your interest to this address: carolina_camacho@iscte-iul.pt
The deadline for applications is 31st of March.
As a reminder, this final meeting of the CA18137 MCMH-EU will take place from 26 to 30 April 2023 at the University of Applied Sciences in Frankfurt.
CALL FOR SEMINAR PARTICIPATION Seminar "Lieux et Enjeux III" - Social recompositions of Mass Housing, European Stories - Deadline 27 March 2023
Seminar "Lieux et Enjeux III"
26 and 27 June, 2023
Paris, France

Social recompositions of Mass Housing, European Stories
ENSA Paris-Val de Seine, Paris, France
Hybrid (Face to face and online)
Abstract Submission Deadline
Saturday, June 10th, 2023
If you have any questions or requests for information, you can also contact the organization team at the same address.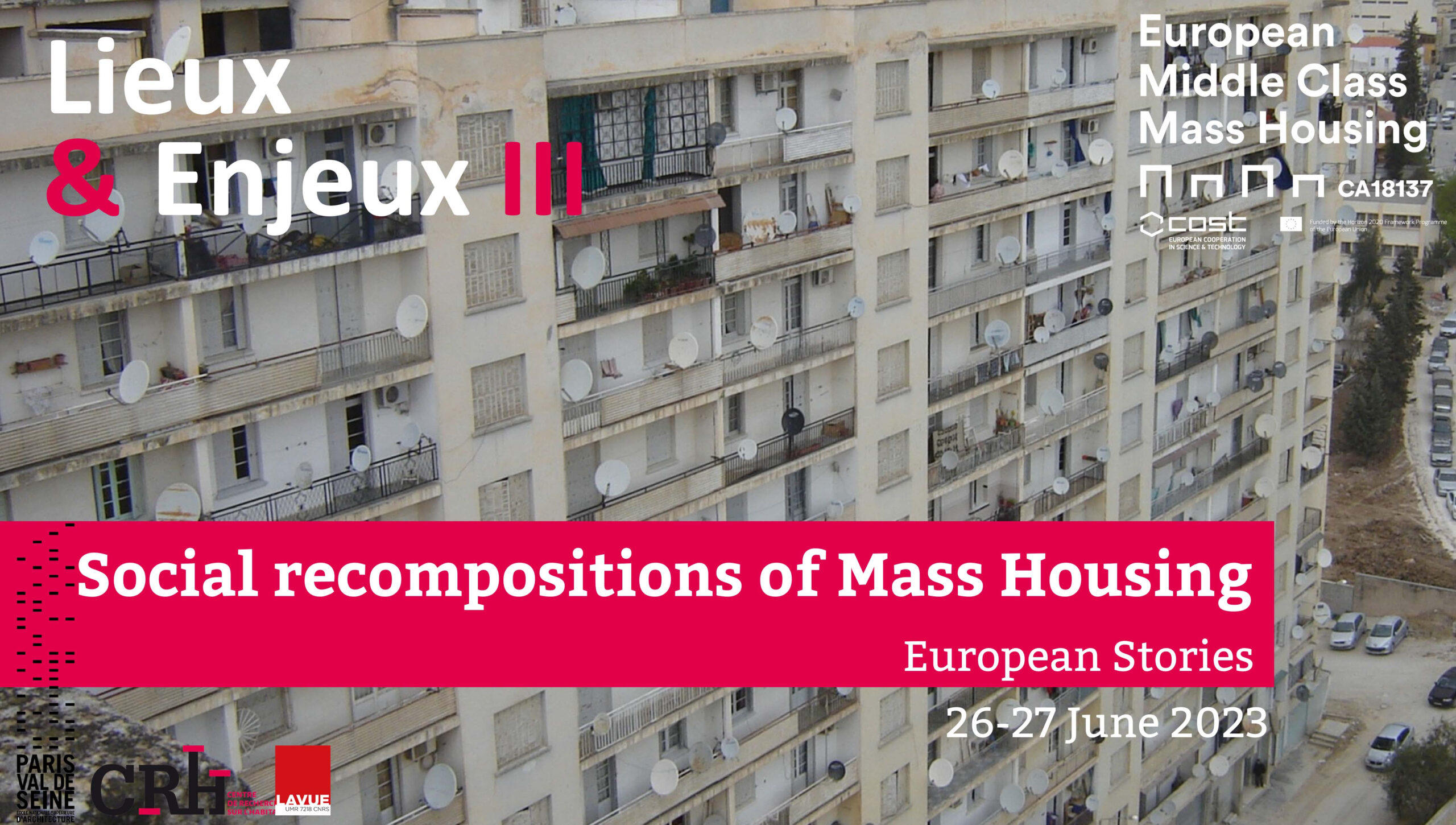 The selection of speakers will be based on the submission of a simple abstract with title according to the following deadlines
While the COST Action program "Middle Class Mass Housing" has been precise on the second term, Mass housing, the first term still leaves considerable room for work. The task is important because of the diversity of what the notion of middle class covers in the different CA18137 countries, according to their history, their political tradition and their inclusion in the market economy.
In this seminar, we propose to consider the population changes that have taken place in the large housing estates since their construction and the way in which they have been the subject of demographic, political, managerial, urbanistic, architectural, photographic, novelistic and poetic narratives. A multidisciplinary reflection could also look at the different narratives that are grafted onto the initial project of the neighborhoods and stratified around its constructions and its multiple images and representations.
In some cases, the initial population has remained in place: it would be interesting to see how it was designated yesterday and how it is today; to what extent the renovation or rehabilitation projects have or have not led to its redefinition. In other cases, the initial population has changed and it would then be interesting to see how this has occurred (departure through relocation or social ascension, e.g. home ownership). It would therefore be relevant to analyse how the new arrivals are identified.
Finally, we could look at the representations of these populations in renovation and rehabilitation projects and during long-term processes. By comparing the accounts of different European countries, this seminar will not propose a definition of the middle classes within the CA MCMH-EU. But it will show how this notion is linked to that of social and spatial change.
This seminar is a continuation of the COST Action 18137 MCMH-EU / CRH seminars held in Paris in 2021 ("History, memories and urban strategies") and 2022 ("Evolution of collective spaces in Mass housing". The papers may be published later.
This 3rd edition of the L&E Seminar is organised in collaboration between the Centre de recherche sur l'Habitat of the ENSAPVS and Politecnico di Milano.
For the CRH: Bernard HAUMONT, Yankel FIJALKOW, Ahmed BENBERNOU
For the Politecnico di Milano: Gaia CARAMELLINO, Nicole DE TOGNI
CALL FOR ABSTRACTS for EUGEO Congress - Session on Mass Housing - Deadline 31 March 2023
9th EUGEO Congress "Geography for Our Common Future"
Mass housing, high-rise and vertical cities – What else?
Abstract Submission Deadline
Notification of Acceptance
Organizers: Tamas Egedy
From: Budapest Business School, University of Applied Sciences, Budapest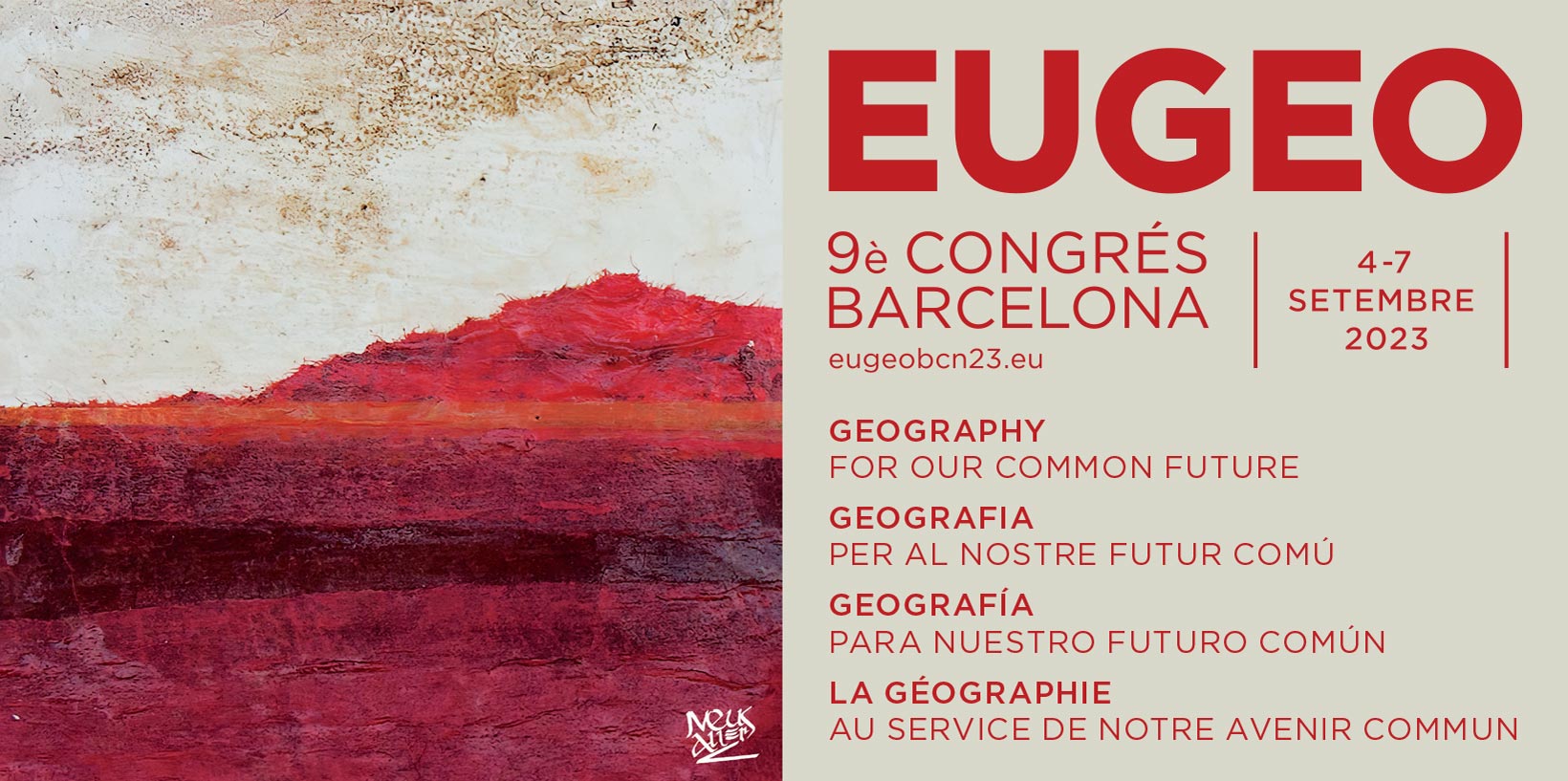 Geography, with its focus on the interaction between people and environments, is well placed to answer questions about our current condition, how we got here and directions for research to secure our common future. EUGEO 2023 Barcelona welcomes sessions and papers on a broad range of topics that could contribute to an understanding of our current conditions, the challenges we face, and directions necessary so that humanity and all that cohabits our planet can survive in our shared environment.
Given that EUGEO is a Congress gathering the entire Geography discpline, it is necessary to link the abstract to one of the Sessions below. Once the submitting period ends, the review will be done by each session chair.
To submit an abstract, we ask for a no more than 300 words description, as well as the information regarding the Author(s).
Organisers of DOCONF2023 propose four key topics based on previous years' experience, and they will finalise the sessions of the conferences after the abstract submission.
Mass housing, high-rise and vertical cities – What else?
Housing estates have been built all over the world, and if we look at them in Eastern and Western Europe, there are far more similarities than differences. Their origins are common, their construction was inevitable and there are no fundamental differences in the reasons for their construction. They were all built to address the housing shortage in the short term. Looking at the architectural evolution of mass housing programmes after the Second World War, we find that they replicate to some extent the post-World War I situation in that there was a gradual shift from suburban neighbourhoods to large housing estates on the periphery, and the same urban ideologies and architectural techniques were employed. In Europe, housing estates thus became widespread and in many countries they continue to constitute an important segment of the housing market. In recent decades, the issue of high-rise housing estates has often been the focus of urban geographical, architectural, and urban planning discourses, and more recently a new mainstream urban paradigm, the theory and practice of vertical cities has grown out of this issue. This session aims to bring together and present current research on mass housing, high-rise housing estates, and vertical cities, focusing in particular on social, economic, and urban issues, housing market processes, and other related topics.
CALL FOR ABSTRACTS for DOCONF2023 'Facing Post-Socialist Urban Heritage' - Deadline15 April 2023
DOCONF2023 'Facing Post-Socialist Urban Heritage'
Abstract Submission Deadline
Notification of Acceptance
Email: doconfbudapest@gmail.com
BME Department of Urban Planning and Design
Műegyetem rkp. 3. 1111-Budapest, Hungary
The DOCONF series provides a comparative overview of current doctoral research in architecture, landscape architecture, and urban planning, focusing on the urban challenges of the inherited physical (built and natural) environment of the post-socialist cities in Central and Eastern Europe (CEE), and post-soviet Asia. Those invited include doctoral students or post-doctoral researchers (with a PhD/DLA degree earned after the 1st of January 2017) – specializing in architecture, urban design, urban planning, landscape architecture, or other topic-related academic fields.
The DOCONF gives a chance for young researchers to find relevant international context regarding their research topic, to present and discuss at an academic conference, and to publish a final full paper (15000 – 20000 signs) in the double peer-review open access DOCONF2023 e-proceedings (see previous doconf's publications). In addition, you could discover Budapest, the capital city of Hungary! Abstracts can build on theoretical concepts, case studies, process interpretations, and comparative analyzes among post-socialist countries or between Eastern and Western Europe. Important that the scale of your research will be urban (not just a building), and if you work with case studies, at least one of them should be located in a post-socialist city. For abstract submission, using the form (Abstract submission), give your doctoral data, and write your title and a 250-300 word-long abstract proposal related to the general topic of the DOCONF series Facing Post-Socialist Urban Heritage.
Organisers of DOCONF2023 propose four key topics based on previous years' experience, and they will finalise the sessions of the conferences after the abstract submission.
Mass Housing Neighbourhoods
Throughout the world, mass housing was the answer to access decent living conditions after the Second World War and is still a used answer to the housing shortage in many countries. Modern and contemporary theories and practices shaping these housing developments seem to be global, but the urban form, architectural characteristics, technical details, ownership system, space division, everyday life, etc., are varied locally. In post-socialist cities, most of the housing estates were publicly owned, centrally planned, built, and managed developments, but after the privatization process, their conditions changed, and they have a lower ability to integrate current housing requirements. Nevertheless, mass housing neighbourhoods represent highly specific areas of cities demanding conceptual and thoughtful public policy decisions regarding their complex sustainability and livability.Faced with their actual status, the housing needs, aspirations of the inhabitants, or the climate issues and the pandemic situation, what are the possible changes in this urban heritage? How do we not betray the social and egalitarian ideals which motivate the construction of these neighbourhoods? And what challenges lie ahead for the inherited mass housing neighbourhoods of the post-socialist cities?
Post-Socialist Transformation Challenges on Seasonal Landscapes: Freedom appeared on a new scale but with a different meaning in eastern and western landscapes after the Second World War. While in the West, freedom emerged in the form of the right to leisure, in the East, holidays became a means of consolidating social policy. The increasing infrastructure capacity has opened up new DOCONF 2023 / doconf.architect.bme.hu / Department of Urban Planning and Design / BME Budapest opportunities for domestic tourism and recreation for a broader range of society, while it became a showcase for socialism for international tourism. However, the building process transformed the landscapes spectacularly, the buildings were designed just to meet the functional needs of seasonal tourism, focusing on a short period of land use. Simple and lightweight, experimental buildings soon became widely popular and deeply positioned in the collective memory as landmarks. But post-socialist resorts are now being shaped by privatization and contemporary tourism concepts. Formerly modern tourist monuments today struggle with problems of heritage protection, rehabilitation, demolition, or transformation. The new forms of freedom pose new challenges to post-socialist leisure escapes. How have new tourism trends transformed landscape identities? What rehabilitation challenges and tools are emerging in the renewal of tourist facilities? In what ways is it possible to define new concepts for post-socialist leisurescapes?
As a result of the centralized industrialization plans of the socialist countries after the Second World War, completely new industrial landscapes came into being, sometimes without profound precedents. They created a new culture of industrialization and unique built environment identities of the urban fabric. Starting from the early 1990s, however, the political and economic changes in these countries began transforming these industrial urban landscapes. Despite their excellent urban location, they relatively quickly lost their economic background and started a process usually associated with decay. Their transformation has taken many different paths in recent years, but their impact on urban life is almost unquestionable. Will high-quality, productive landscapes be born at these transitory places still looking for their new identity? Can the socialist industrial heritage be the base of resilient urban dynamics and new regenerative processes? The session focuses on the treatment of urban heritage and new strategies in these territories in post-socialist cities.
Re-use of Urban Public Space
Public spaces in the socialist bloc acquired new political and social functions, therefore faced a drastic transformation compared with the traditional use of the marketplaces and promenades from before the world wars. New urbanization projects made possible the construction of new types of public spaces and public buildings, giving space to large controlled parades of the socialist society but less to small-scale community socialization. After decades of severely controlled public life, inhabitants of the post-socialist cities have been suspicious towards using the public spaces and socialist public functions as their natural meeting places, but rehabilitation projects and new public functions gave life even to the most utopian and grandiose spaces, especially where community involvement was used for the redesign. In this session, we collect scholarly studies on the rehabilitation and re-use of public spaces in post-socialist cities and villages. Public buildings and external spaces can be both subjects of analysis, if their use has been measurably modified, good and bad practices can both be presented.
For the current call priority will be given to STSMs that specifically address the deliverables as described in the Memorandum of Understanding of the COST Action CA 18137. This is expressed by the assigned higher weight of criteria "5. Benefits of the STSM for the COST Action CA 18137" in the above given table of criteria.
In addition, it is expected that each STSM will – next to other planned outcomes – also contribute to the Atlas of Middle Class housing by contributing with a template and/or another contribution.
Before filling the application, please consult the STSM rules in the COST Vademecum at Section 8. In case you have any questions about the application procedure or STSM rules, please contact Els.devos@Uantwerpen.be
You may delete this first page of the application form when submitting your STSM proposal.
Documents to apply for a STSM
i) This STSM application form, filled according to your STSM plans;
ii) An invitation letter from the host institution;
iii) A support letter from the home institution;
iv) A max. 2-page CV of the visitor;
v) A list of publications of the visitor (if applicable).
What are the evaluation criteria?
Your application will then be evaluated by the STSM evaluation committee based on the following criteria:
| wdt_ID | Description | Grading | Weight |
| --- | --- | --- | --- |
| 1 | 1. Quality and feasibility of the workplan | 1 to 10 | 17.5 % |
| 5 | 3. Suitability of the applicant to execute the workplan and to reach the Prospected Outcome | 1 to 10 | 17.5 % |
| 4 | 2. Quality and feasibility of the Prospected Outcome | 1 to 10 | 17.5 % |
| 6 | 4. Benefits of the STSM for the applicant (visitor) 1 to | 1 to 10 | 17.5 % |
| 7 | 5. Benefits of the STSM for the COST Action CA 18137 (contribution to the output of COST) | 1 to 10 | 30 % |
CALL FOR VIDEOS PROPOSALS - For all Action-Members - Open call
MCMH-EU is organising a MCMH-EU Youtube Channel with a series of video podcasts from September 2020. This series will allow our action to remain active even in this time of health crisis, especially since we do not know when international travel will be allowed. Besides that, it is a good way to share our research and increase our COST-Action visibility beyond its members.
We are now looking for proposal with this Call for Proposals for all Action-Members. We highly encourage all Action-Members – in particular ITC and Young researchers – to submit a proposal for a video (up to 300 words) within the following thematic categories.
There will be two categories of videos podcasts:
– A short version (6-8 min)
– A long version (15-20 min)
– Lecture Series
The proposal should indicate which category applies.
We are very much looking forward to receive your proposals. Please send your proposal to the relevant WG-leader.
The maximum amount available is 500 euros (with VAT).
– MCMH History – Historical synopsis (Historical synopsis of a case study)
– MCMH Architecture / Urbanism (e.g.: Learning from Projects; Maps/planning/GIS; Typologies; Housing and Collective Spaces; Landscape Views; Covid-19 pandemic)
– MCMH Concepts / References (e.g.: Defining Middle Class; Housing and Social Class; Mass Housing)
– MCMH Public Policies (e.g.: Country portrait, Case studies)
– MCMH-EU Countries (Videos related to the different/selected countries)
– MCMH-Touring cities (Videos related to the different/selected countries)
– MCMH-Interviews (Interviews with another MCMH-EU member or any MCMH expert)
– MCMH-Open Category (You are welcome to suggest another category)
Closed Calls
Rachelle Alterman is professor (emerita) of urban planning and law at Technion—Israel Institute of Technology and Research Fellow of the Neaman Institute for National Policy Research. She heads the Laboratory on Comparative Planning Law and Property Rights. Alterman is the founding president of the International Academic Association on Planning, Law and Property Rights. Her research interests include comparative planning law and land use regulation, comparative land policy and property rights, housing policy, and implementation of public policy.  She is highly published and cited.  For her pioneering contribution to the field, she was awarded Honorary Member status by the Association of European Schools of Planning (among only 6 awarded this distinction, and the only non-European), and has been selected as one of 16 global "leaders in planning thought" whose academic autobiographies have recently been published in the book "Encounters in Planning Thought" (Routledge publishers, 2017).
The book analses how Israel aligned its land, planning law and housing policies to intake the mass immigration of Soviet regime refugees/immigrants just before the collapse of the USSR and a bit afterwards. The Jewish immigrants and family members came from many parts of the former USSR – many from both Russia and Ukraine. The numeric challenge was astounding: Israel's population at the time was 4.5 million, and the expected wave was 1.5 million –a 33% increment. (The final numbers were somewhat lower because after the Russian regime and economy stabilized, the wave declines). In retrospect, the intake and absorption of a million immigrants turned out to be very successful – certainly in term of the massive construction of housing and urban integration.

ONGOING
ONGOING
All
Ongoing Workshops and Conferences
UPCOMING
UPCOMING
All
Upcoming Seminar
Upcoming Training Schools
Upcoming Workshops and Conferences
PAST
PAST
All
Past Workshops and Conferences
EVENT TYPE
EVENT TYPE
All
Seminar
Training Schools
Workshops and Conferences

X
Event cancelled
Event Details
...