As a Methodological Observatory
10/11/2022, h. 9:30 – 19:00, Politecnico di Milano, Campus Leonardo, Edificio 29, SALA Riunioni
11/11/2022, h. 9:00 – 13:00, Politecnico di Milano, Campus Leonardo, Edificio 12, SALA RiunioniLink to receive invitation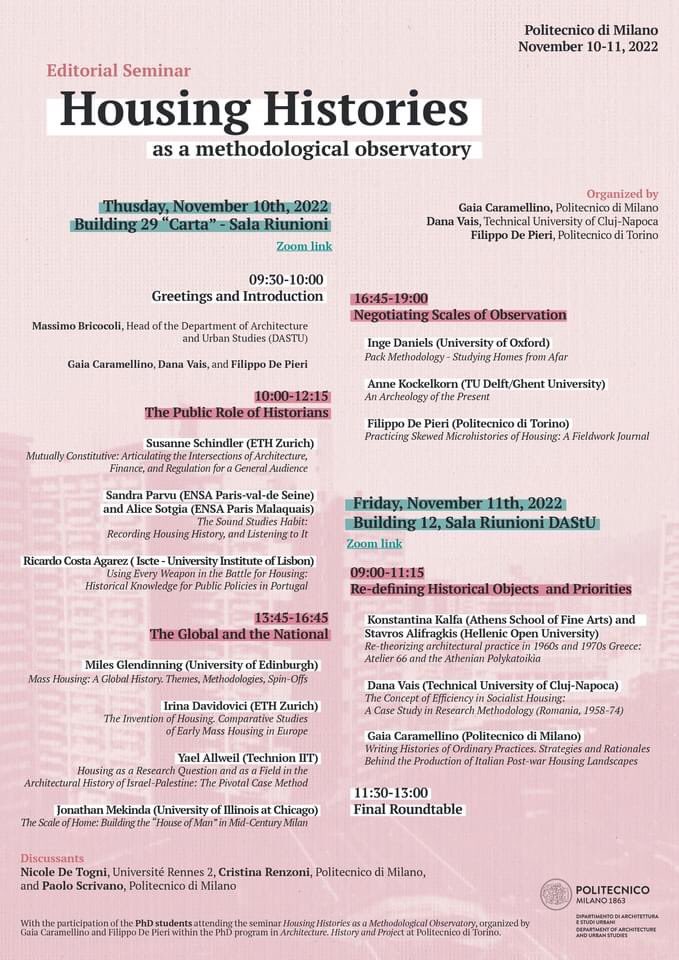 In recent years, housing history has proven to be a fruitful field of exchange between scholars with different competences and an exceptional testing ground to experiment with practices and methodologies of historical research. This seminar takes housing histories as an observation point to discuss some new methodological trends that contribute to reshape historical studies on architecture, cities, and the built environment. The 15 scholars will discuss a specific methodological approach (or combination of approaches) while presenting the outcome of recent research on a situated case study. The topics discussed will include: the use of microhistory in housing studies; the growing interest for comparative, transnational, global and multi-situated approaches; the return of typological studies; the increasing relevance of oral histories; the role played by direct observation and fieldwork; the influence of social and environmental concerns in the construction of historical research; the mutual link and influence existing between scholarly narratives and publicly shared representation of a place.
The symposium is organized in the framework of the visiting fellowship of Dana Vais at DAStU and is linked to the discussions carried out since 2014 within the EAHN (European Architectural History Network) Interest Group on Housing, coordinated by Gaia Caramellino and Filippo De Pieri, and to their PhD seminar on "Housing Histories" held at Politecnico di Torino.
Relatori: Susanne Schindler, Sandra Parvu, Alice Sotgia , Ricardo Costa Agarez, Miles Glendinning, Irina Davidovici, Yael Allweil, Jonathan Mekinda, Inge Daniels, Anne Kockelkorn, Filippo De Pieri, Konstantina Kalfa, Dana Vais, Gaia Caramellino.
Discussants: Nicole De Togni, Cristina Renzoni, Paolo Scrivano.
Responsabili: Gaia Caramellino, Dana Vais, Filippo De Pieri